If you're looking for the best bike for a 2 year old, you may find yourself baffled by the array of choices in store or online. It's important to choose something good quality that is going to last and be enjoyed by your toddler. After all, they will grow into it and you will get more value for money if you choose one that will last, so, picking something with a good sturdy frame and wheels is important.
Why You Should Get Your Toddler A Bike?
Bikes just make kids happy! It's one of those things that a lot of kids grow up loving. A bike can become a beloved toy as well as a means of transportation. Kids take bikes everywhere these days, to the park with friends or down the street to visit relatives. It's also a great, and fun way, to get some exercise and fresh air .
I know from experience, my son loved his balance bike and was off on two wheels before he even turned 3. He now loves playing with pedals at the park and we have only had to upgrade his bike because he's started growing.
Before you go out looking for a bike, it's a good idea to first check that your child is physically able to sit on the seat of the bike and ride. Many parents also like to consider stability so they wil opt for a tricycle which is designed for a child with more mature leg muscles (3+ years).
What To Look For When Buying A Toddlers Bike
This is what to look for, as recommended to me by my local paediatrician:
Sitting unsupported by the knees – The legs should be straight and supported by the knees.
Ability to keep feet on pedals while moving forward – This shows that your child has developed enough balance and strength in their leg muscles to be able to control a bicycle.
Ability to reach the foot pegs – This shows that your child is tall enough to be able to stay balanced on the bike while reaching for the pedals.
If you (and your pediatrician if you decide to consult one) are both happy that your 2 year old is physically able to ride a bike, the next step is choosing a brand and style of bike! Here are some general guidelines
Types of Toddler Bikes
There are many different bikes for toddlers available, from tricycles to 12-speed cruisers. Of course, your child's choice must be taken into consideration when selecting the best bike for a toddler, after all if they choose it themselves they are much more likely to want to use it!
Bikes come in many colors and have flashy, detailed designs to appeal to kids (and their parents). There are also different styles of toddler bikes, so consider what kind of bike you want your child to ride before going shopping.
Adjustable Bikes
Adjustable bikes are good choices for younger children because they grow with them and can last more than one or two years. However, they are more expensive than the other types we will look at so they may not be the best investment if your kid's got a short attention span or doesn't see themselves as a cyclist.
Balance Bikes: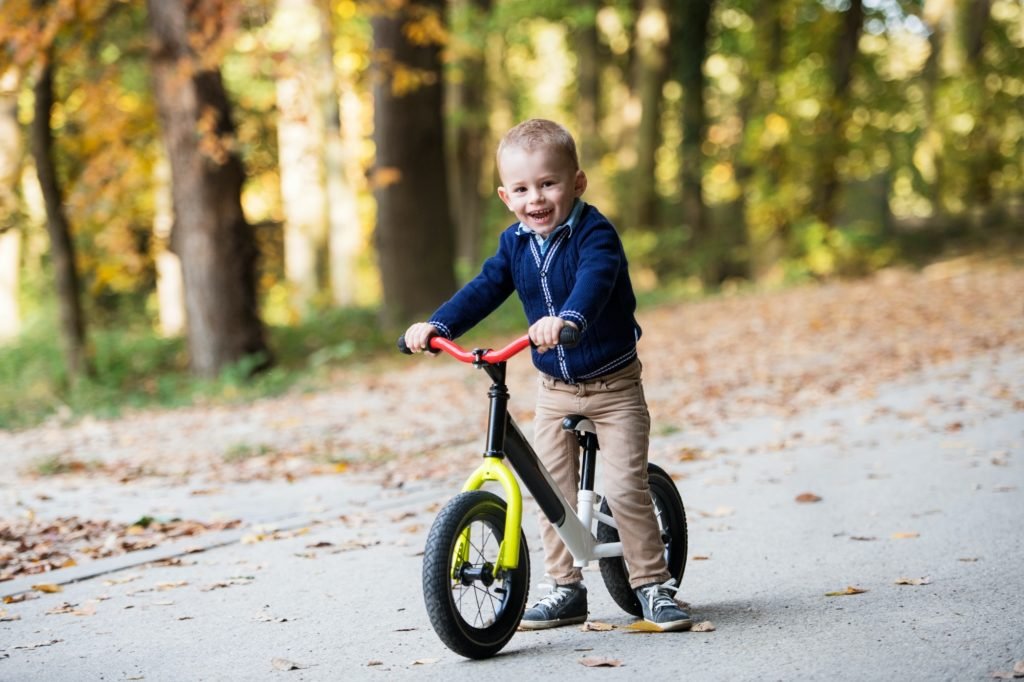 Toddlers first bikes are called "balance bikes" because they don't have pedals. This allows kids to focus on balancing and steering instead of worrying about pedaling. Balance bikes can be a little tricky for parents to maneuver, but children will learn quickly with these models. You can read more about balance bikes here.
Bikes For Practice:
Next, many parents choose training wheels for their growing toddlers. Training wheels help keep the bike balanced during a ride and also provide a cute stage in between balance bikes and standard bicycles.
Tricycles:
Many kids enjoy riding tricycles before they graduate to more challenging modes of cycling. Tricycles have three wheels, so the child can pedal, coast or even walk them along if they choose.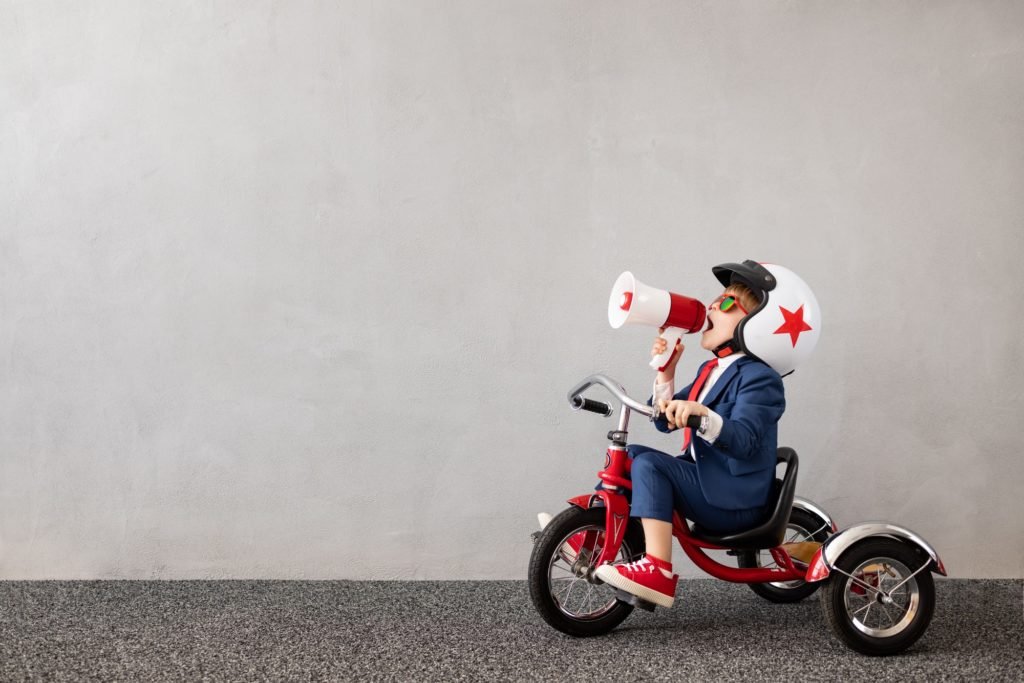 Trikes are an excellent way to familiarize your child with the experience of riding a bike, which will make it easier for them to ride alone once they have mastered this skill. You can also find tricycles that help kids learn balance before they move on to pedal bikes.
Toy Bikes
Toddlers won't really be learning to ride with toy bikes, which are designed for play more than transportation. Toy bikes have features that make them appear to move even when they're not being pedaled or pushed, such as streamers and wheels that light up.
How To Size your Kids Bike
When choosing a bike, the most important factor is that it fits your child. The best way to do this is by standing them next to a wall and placing their feet flat against it. Then measure from the floor up to his or her crotch.
Your child should be able to place his or her feet flat on the ground while sitting on the seat. If there isn't enough room, your child may have a hard time keeping his or her feet on the pedals while moving forward.
You should also take into consideration your child's weight and whether they are tall for their age when choosing a bike. A good rule of thumb is that tires should be about as wide as your child's knees.
How to Purchase a Bike for Your Child
Bikes are not all the same, so it is important to be aware of what you will need and want before purchasing one. Some bikes have training wheels attached and may or may not have pedals, but, when it comes down to the final decision, ulitmately, its a parent's decision. Children who cannot reach the ground while sitting on the seat, have short legs or are unable to touch the ground with their feet should be started out on a tricycle.
Bikes with training wheels typically come in two seat sizes and include plastic-covered metal bars that run along each side of the rear tire. The pedals on these bikes usually can't be removed, however some parents may want to take them off to prevent their kids from coasting or training wheels.
If your child is still too small for a bike with pedals, an older sibling's old one can work fine. Check the brakes and make sure they work properly, and that the tires are inflated despite being unused for some time.
How Much Are Toddler Bikes?
According to the National Sporting Goods Association, the average bike for a 2 year old costs $48. Even if your child's kids bike is more than that at first, it should still be a worthwhile investment.
More expensive bikes are made of lighter yet durable materials and designed by professionals with children in mind. They are also better equipped for safety, with features such as reflectors and rust-resistant paint jobs.
What to Look For When Purchasing a Bike for Your Toddler
When purchasing a bike, look for the following: A lightweight frame that is made from aluminum, steel or titanium; little assembly required (if any); an adjustable seat; hand brakes and a kickstand.
Most bikes that are purchased for toddlers have a weight capacity of up to 44 pounds.
Hand brakes are important for kids who are starting to ride a bike without training wheels. They should be easy for the toddler to use, and located so they can easily reach them with their feet on the ground. Some bikes even have hand brakes that can lock to keep the rider from moving forward when using the pedals.
Bikes with three wheels are available and can be used by kids who have been riding with training wheels for a while. They add stability to the bike as well as make it more affordable because they cost less than two-wheel bikes.
How to maintain your Toddler Bike
Bikes need some basic maintenance to stay in good working order. If you have a child's bike with training wheels, make sure they are secured and adjusted properly. Remove the wheel from the frame to check if it is tight . Check rims for bent or damaged spokes and rub smooth any rust or rough spots on the chain.
Child's bikes with pedals should be checked at least once a month. When your child is not riding the bike, the tires should be stored in a cool dry place and inflated to the recommended pressure. If the training wheels come off, reattach them properly and tighten as needed. Wipe clean any rust or dirt from metal parts with a rag, and tighten any loose screws.
The key to keeping toddlers safe is knowing how to ride a bike and staying alert. Children should always wear helmets, which should be fitted by an expert. They also need knee pads and elbow pads for added safety while riding. It is important to make sure the bicycle fits your child's size before buying it. Also, check that the brakes work properly on the bike. If you do not know how to ride a bicycle, take classes with your child so that you can both learn together.
How to Teach Your Toddler to Ride A Bicycle
Learn the basics of riding a bicycle with your child by taking cycling lessons at an indoor or outdoor gym. Classes usually meet once a week for about 30 minutes. If you take lessons from a cycling instructor, your child will learn everything they need to know about correctly operating a bike.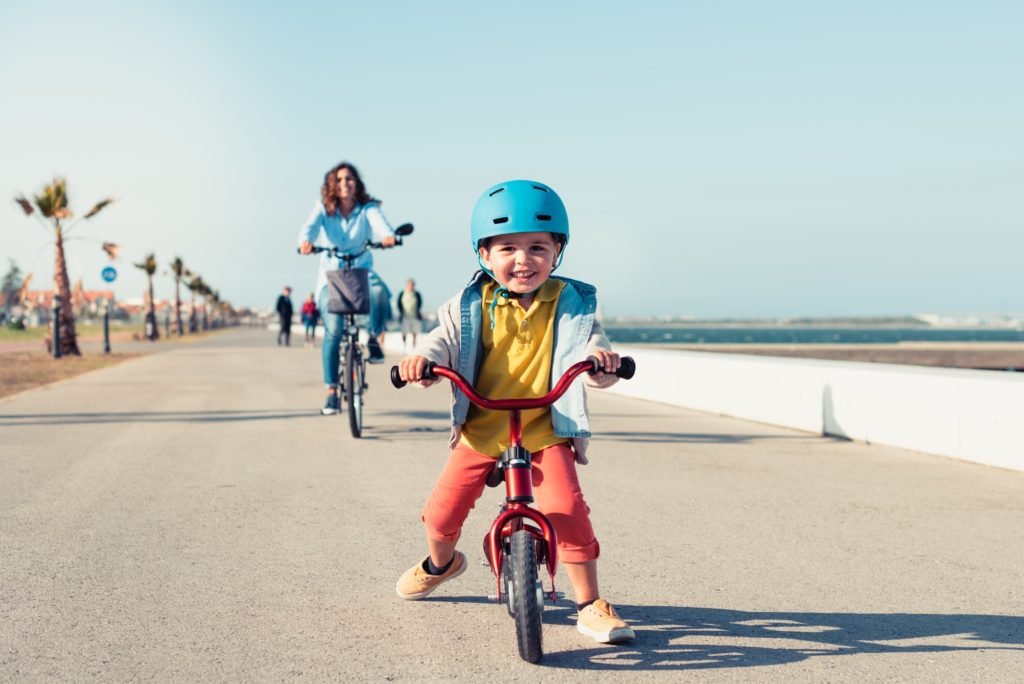 Key topics in a class include: how to steer the bicycle, where to put their feet on the pedals and how to stop by pedaling backwards with both feet on the ground. Before you go to class, make sure you both have the proper safety gear for riding a bike.
Children who take classes can quickly learn how to ride a bicycle on their own. They will also enjoy more fun family time and get better exercise by going biking together.
Students in these types of lessons usually progress much faster than children taught at home with parent help. Parents can reinforce the skills learned during class at home by practicing bike basics with their child before taking them on the road.
Considerations for Your Child's First Ride Outdoors
If you are planning to take your child outside, use a quiet path free from traffic and parked cars. Make sure your child can stop quickly when necessary so that they will not be in danger of colliding with other people or vehicles. Also, check to make sure the height of your child's seat and handle bars are adjusted correctly for their size.
If you do not know how to ride a bicycle, take lessons with your child so that you can learn together. Consider renting an adult bike for yourself or purchasing an additional helmet for yourself if you do not own one. Wear knee and elbow pads to keep your child safe while riding outdoors.
Tips For Purchasing a Child's Bike Online
When purchasing an online bike for your child, make sure to check the dimensions of the product carefully. Use detailed pictures from various angles so you can be certain that what appears in color is actually a pleasant match with design and style preferences.
Conclusion
Whether you're looking for a bike that's perfect for your 2 year old, or if you want to make sure they are safe and comfortable while riding it, we have all the information available here. We also offer some great maintenance tips so when accidents happen (and they will) this can be done quickly and with ease. Now its time to grab a great deal on a bike for your 2 year old!